Is the San Diego Housing Market Safe?
Posted by Patrick Ferry on Wednesday, March 25, 2020 at 2:41 PM
By Patrick Ferry / March 25, 2020
Comment
What's going to happen to the San Diego Housing Market?
In uncertain and scary times with the coronavirus causing the California Govner to ask everyone to "shelter in place" ... or STAY PUT! With businesses basically what's going to happen to the housing market?
I'm getting calls from investors who are drooling, buyers are asking is there going to be discounting, some sellers are calling me asking how quickly can I sell.
Does this mean prices will fall!???
Well, we have to look at the charts and not speculate on how we "feel" about the situation. But first, let's ask the most important question:
What would it take for this market to shift from a seller's market to a buyers market?
In San Diego County, on Tuesday, March 17th I showed a property to a buyer and then called the listing agent because they wanted to write and offer when I asked the listing agent the current status he said, "we had 14 offers & just accepted one."
You would think this is an extreme example, but the last two listings we put on the market in the last 2 weeks both received 4-7 offers within 72 hours.
Therefore the question becomes, how many buyers would have to exit the market and how many new properties would have to come on to the market for the supply and demand to tip?
The basic good news from the San Diego housing market ... it would take a lot of inventory and a severe exit of buyers. There is a group of people that would say to this, "well NOBODY is going to buy" ... ahahaha That's just not true, there are people who "have to buy" and "timing the market" is NOT their priority, having a safe place to call home is!
Here are today's market stats as of March 25th: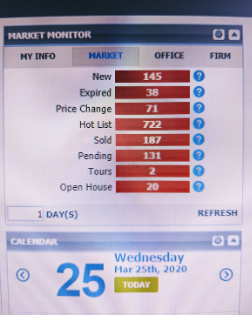 Supply and demand are what I pay attention too.
C.A.R. releases February home sales and price pre-COVID-19 outbreak report:
"Before the coronavirus outbreak hit the state so severely, California's housing market was getting a strong foothold, with home sales and prices posting healthy increases in February. A C.A.R. flash poll conducted between March 14-16 found that more than half (54 per cent) of REALTORS® had clients who backed out from buying a home because of the coronavirus, and less than one-half (45 per cent) had clients who backed out from selling a property."
Learn here: https://www.car.org/en/marketdata/data/countysalesactivity
Wisely people backed out, to safety, concerns of jobs, losing jobs, stock market dropping. The thing I noticed was both buyer and sellers backed out ... vs buyers just backing out leaving a glut of inventory which is what would lead to prices to fall.
Today's #'s are balanced even in the midst of everything happening right now!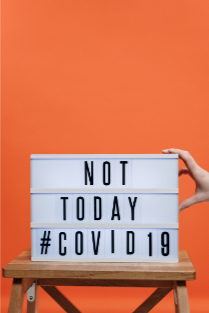 Every day we hear and see a new story, let's together make sure we are doing thorough consultations in advance of your next big decision.
Since we are all at home there are lots of virtual real estate opportunities, let's do a video conference or conference call to discuss options, concerns, opportunities and timelines.
Stay safe and healthy!!!